Beginning September 22, 2021, in conjunction with the Provincial mandate for movie theatres and many other public gathering spaces, all Imagine Cinemas guests will need to provide proof of full vaccination status with either a Health Canada or CDC authorized vaccine. Effective January 4, all Imagine Cinemas guests must provide proof of vaccination with the official enhanced vaccination receipt with QR code.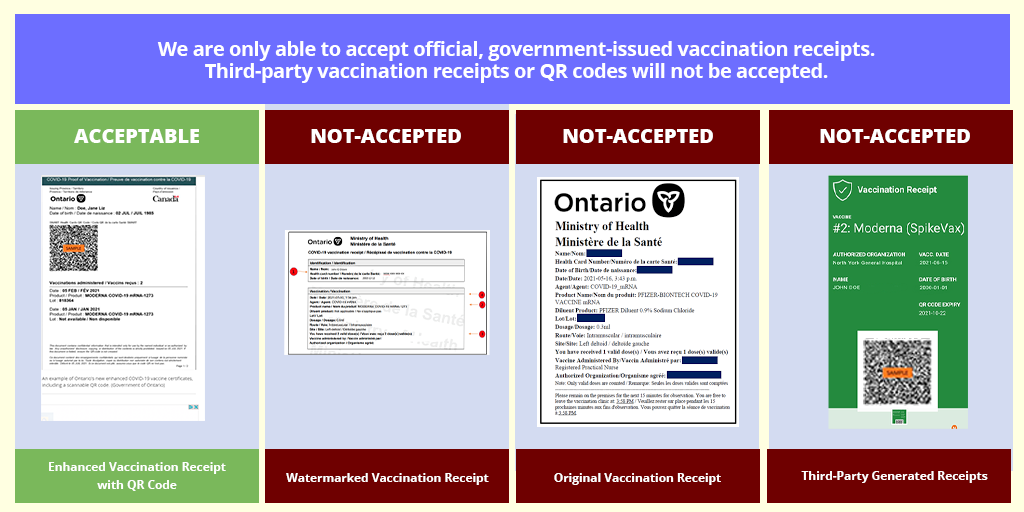 "Fully vaccinated" means that the date of attendance must be at least 14 days after receiving either the second dose of a two-dose COVID-19 vaccine or 14 days following a single dose vaccine (ie: Johnson & Johnson).
An enhanced vaccination receipt with QR code – displayed on either a smartphone or with a physical copy of the proof of vaccination – must be presented at the time of entry into Imagine Cinemas locations. Per the provincial mandate official vaccination receipts without the QR code, as well as third-party apps and QR codes, are not accepted.
All guests must also present a government-issued  ID.  Guests under 12 must be accompanied by an adult, who must meet the above requirements. 
Children under 12, who are accompanied by an adult that meets the above vaccination requirements, will be allowed entry in accordance with the prevailing medical guidance at the time of admittance. 
Exceptions will be made only for guests who provide proof of exemption as required by the Province. International guests may use the same vaccination documentation that allowed their border crossing. 
For your safety, as well as that of our staff, and in accordance with this Provincial order, Imagine Cinemas will not admit any patrons who are unable to provide this required documentation. 
Mask wearing remains mandatory in all common areas of our theatres. Masks may only be removed when seated for the purpose of consuming concessions. Distancing and capacity reductions within our theatres remain in place. 
We anticipate being required to maintain many of these protocols throughout the remainder of 2021 and until the Provincial Government allows for a relaxation of these requirements.
As government guidance is rapidly evolving, our protocols will likewise be amended and updated as necessary.